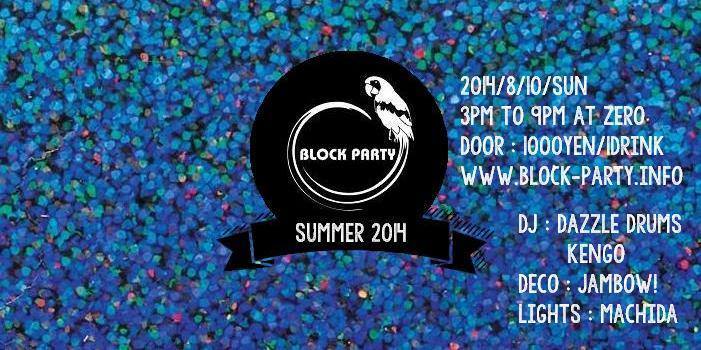 ■Block Party Summer 2014
OPEN 15:00-21:00 DOOR:1000yen (1d)
DJ:
Dazzle Drums
Kengo


Lighting :
Machida

Deco :
Jambow!
前回は皆様のお陰で
最高の8周年パーティを開催することが出来ました。
有難うございました!
アニヴァーサリーのあとの8月は、
毎年恒例のサマーセットです。
Laid Backはtake it easy!と"Sunshine Raggae"で歌うけれど、
Cool & The Gangの夏は"Summer Madness"だし、
Bananaramaの夏は"Cruel Summer"。
Lana Del Layだって"Summertime Sadness"。
太陽は健康的な日常だけを運んでくれる訳ではなさそうです。
海の底深く、遥か空遠く、夜の星の煌めきにまで、
心が届くようなダンス・ミュージックをお届けします。
We appreciate all people who came our 8th anniversary party!!
Next,
Block Party's every August is Summer set : )
未成年の方もご入場頂けます。
当日のアルコール販売は20歳以上の方のみとなります。
(入口にてIDのご確認をいたします。)
Even if you're under 20 years, please come & join our party.
Of course, over 20 years too: )
ID is required to buy an alcoholic beverage(you must be 20 and over).
http://www.block-party.info
http://www.dazzledrums.com