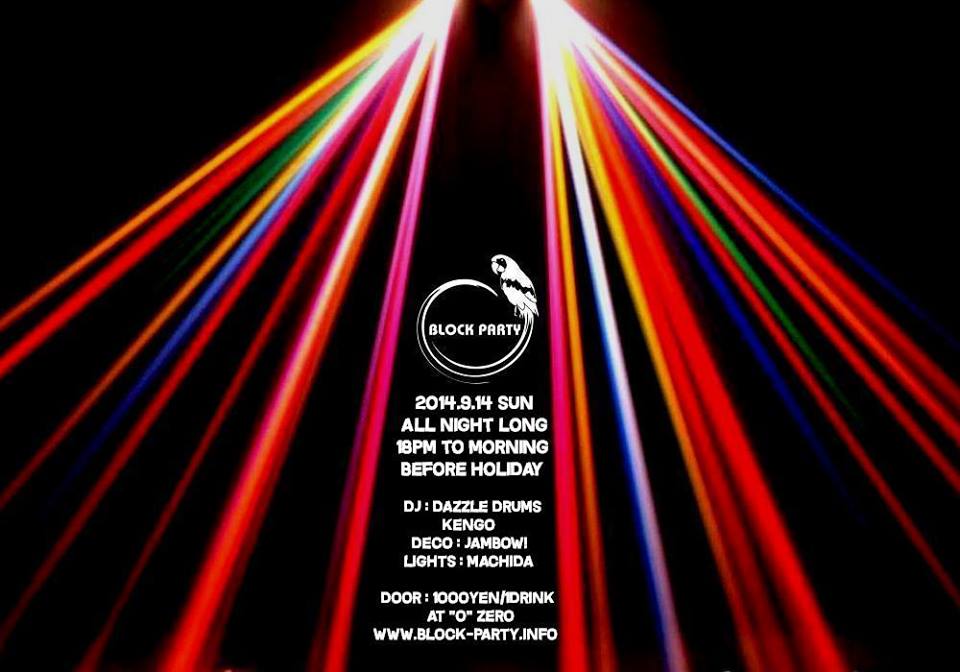 ■Block Party "All Night Long"
18:00- Morning / Door: 1000円1drink
DJ:Dazzle Drums, Kengo,
その他、出演者: Lighting : Machida, Deco : Jambow!
9月のBlock Party は、朝までの開催です。
祝日前でも月曜は休めない方の為の
「終電までの時間」と、
夜遊び好きの皆さんの為の
「朝までの時間」の、二部構成です。
どちらの時間でも満足してもらえるよう、
送り手側はいまから気合い入れて臨みます。
もちろん、パーティはノンストップなので
お好きな時間にお越し下さいね。
If music brings us many emotional sights,
the party will be an unforgettable experience.
We can love any kinds of people who love the same kinds of music.
During the night, the music on the dance floor is pure magic .
18:00-19:30 Kengo
19:30-0:00 Dazzle Drums
0:00-1:30 Kengo
1:30-Last Dazzle Drums
Sunday Before Holiday,
See you on the dance floor All Night Long:)
Open 6pm-Morning
http://www.block-party.info
http://www.dazzledrums.com
https://www.facebook.com/blockparty.tokyo