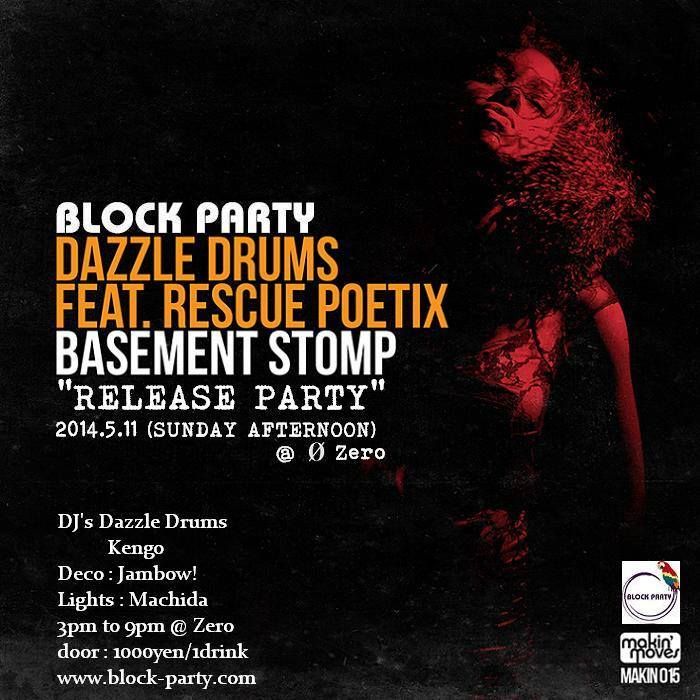 ■Block Party "Basement Stomp" Release Party
OPEN 15:00 DOOR/1000yen (1d)
DJ:Dazzle Drums, Kengo
Lighting Machida
Deco : Jambow!

Dazzle Drumsがずっとプレイし続けてきた
"Soul Saviour (Bang The Drum Vocal)" Nina Provencal
そして
"Out Of My Head (Original Mix)" Funk Mob
などをリリースしているUKのレーベル、Makin Movesから
5月に新曲をリリース致します。
Our new title "Basement Stomp" will be release on May from our favorite UK's label Makin Moves.
"Basement Stomp" Dazzle Drums feat. Rescue Poetix
この曲は、ダンスフロアに集まるparty peopleが床を
踏みならす光景をイメージして作りました。
パーティは人々にとって必要不可欠なものなので、
これからもフロアライクなトラックを作り続けていきたいと思っています。
この日も皆で一緒に、ダンスフロアで楽しみましょう。
About the creation of this track…
Imagined that party people stomped hard at dance floor.
People need party as natural then we are keep trying to make dance floor favor tracks for real party people.
Let's join the party and enjoy on the dance floor !
未成年の方もご入場頂けます。
当日のアルコール販売は20歳以上の方のみとなります。
(入口にてIDのご確認をいたします。)
Even if you're under 20 years, please come & join our party.
Of course, over 20 years too:)
ID is required to buy an alcoholic beverage(you must be 20 and over).
http://www.block-party.info
http://www.dazzledrums.com