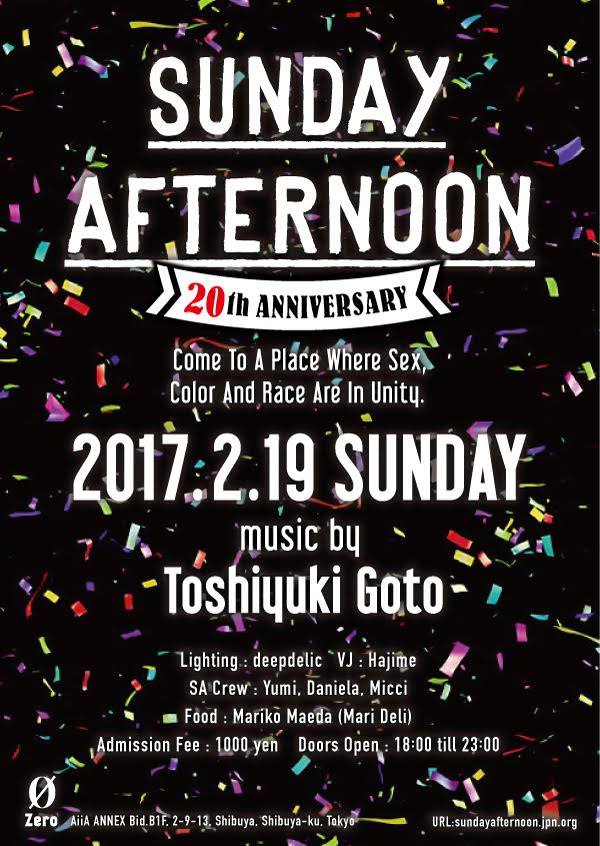 ■Sunday Afternoon 20th Anniversary
OPEN : 18:00 till 23:00 /DOOR : 1000yen
DJ : Toshiyuki Goto
Lighting : Deepdelic
VJ : Hajime
SA Crew : Yumi, Daniela, Micci
SUNDAY AFTERNOON
Toshiyuki Goto(House DJ / Music Producer )
NYに十数年在住、NewYorkのAcme Disco,Cielo,Shelterその他Ibiza,EU各地でプレイ、
また音楽制作活動も精力的に行い、国内外のレーベルよりリリースしている。
"Come To A Place Where Sex,Color And Race Are in Unity.."
"人種、性別、同性愛者にとらわれず皆が集まれ"というコンセプトで、日曜日の夕方
から深夜までオープンマインドな気持ちで楽しめるパーティ。
プレイされる音楽も様々House,Techno,Reggae,Drum'n'Bass,Jazz,
DiscoClassicsといったたような幅広い音を楽しめる。
Lighting:Deepdelic VJ : Hajime、SA Crewと共にパーティを作りあげている。
http://sundayafternoon.jpn.org
https://www.facebook.com/sundayafternoontokyo
About Sunday Afternoon "Come to a place where sex, color and race are in unity
" Our party is for everyone regardless of their race, gender or sexuality.Eve
ryone can feel at home and enjoy a party with an open-minded atmosphere. DJ/pr
oducer Toshiyuki Goto was a resident of 10 years in New York City where he pla
yed at clubs including Acme Disco, Cielo and Shelter.He has also played in Ibi
za and other places in Europe as well as producing and releasing records on do
mestic and overseas labels. Expect to hear music from a wide range of genres i
ncluding house, techno, reggae, jazz, disco and dance classics. Providing the
accompaniment to the music are VJ Hajime with visuals, Deepdelic on lighting a
nd the Sunday Afternoon crew.
http://sundayafternoon.jpn.org
https://www.facebook.com/sundayafternoontokyo
Toshiyuki Goto
80年代後期より、都内各クラブでDJ活動をスタートさせる。 91年に突如単身渡米する
。 そして 94-96年の間、Party "Acme Disco"(NYC)のDJとして活躍。同時に楽曲制作も
積極的に行い、 96年にFrancois Kのレーベルよりジャズキーボーディスト菊池雅章氏
とのコラボレーションユニットMATO名義での"Tribe"と"Drifting"(Wave Music NYC)で
衝撃的なワールドビッグヒットを放ち本格的に制作活動をスタート。
'02年にはToshiyuki Goto名義として初のフルアルバム "Two-Way Traffic"を発表。そ
の後 も"progressivefunk "そして'07年には2nd アルバム"No Illusion"を発表。
国内、海外アーティストのRemixも手掛け、国内のコラボレーションでは藤原ヒロシ、
チバ ユウスケらとの作品も発表する。 DJとしても'03の帰国後、
西麻布YELLOW "Voyage" 代官山AIR "The Garden" また 日本のみならず、
CIELO (NYC)、CLUB SHELTER (NYC) ヨーロッパ各地でもプレイを行っている。
'15年には韓国にて国際的建築家、安藤忠雄の教会のレセプションパーティーの音楽を
担当し、IBIZA (SPAIN) ではMI-BIZAのclosing
partyでプレイを行う。
現在 0 Zeroにて"Sunday Afternoon" Dj Bar Bridgeなど精力的に活動する。
Toshiyuki Goto
"Toshiyuki Goto is a veteran of not just the Japanese house scene but on the h
ouse scene full stop. He started his DJ career in the late 80s, playing in var
ious clubs around Tokyo. He made a move to NYC in 1991,where his skills quickl
y lead him to become a resident DJ at 'Acme Disco' in New York from 1994-199
6 while also working as a producer at the same time. In 1996 he started his pr
oduction work in earnest with the both worldwide hits "Tribe" and "Drifting" t
ogether with jazz keyboardist Masabumi Kikuchi as the unit "MATO", released on
Francois K's label Wave Music NYC. He went on to release his first album unde
r his own name, "Two-Way Traffic" (on Cutting Edge/Avex), in 2002 which he fol
lowed with 2 mixed CDs "Progressive Funk" (on Cutting Edge/Avex) and "Travels
with Flower Plus" (on Flower Records) in 2004 and later with his 2nd album "No
Illusion" (on Rhythm Zone/ Avex) in 2007. He has worked on remixes for both J
apanese and international artists such as Idris Muhummad, Disco Dub Band, Hiro
shi Fujiwara, Yusuke Chiba and many more. He has received world wide acclaim a
nd respect from true 'heads' of the house music scene. Since returning to Ja
pan in 2003, he has continued to DJ not only in Japanese clubs such as one of
Tokyo's finest clubs, 'Yellow'(where he was one of the resident DJs at the
legendary night "Voyage") and 'Air' (where he was the resident DJ at the party
"The Garden") but also regularly touring Europe and most recently headlining
at 'Cielo' & 'CLUB SHELTER' in New York, as well as providing music for th
e reception party for international architect Tadao Ando at the church he desi
gned in Korea. He will also DJ in Ibiza at the Mi-Soul end of season party "Mi
-Biza" in late September along with DJ Spinna, Terry Hunter, Barbara Tucker an
d many more. In Tokyo, he currently continues to DJ as resident at the "Sunday
Afternoon" party at 'Zero' and at 'DJ Bar Bridge', amongst others."