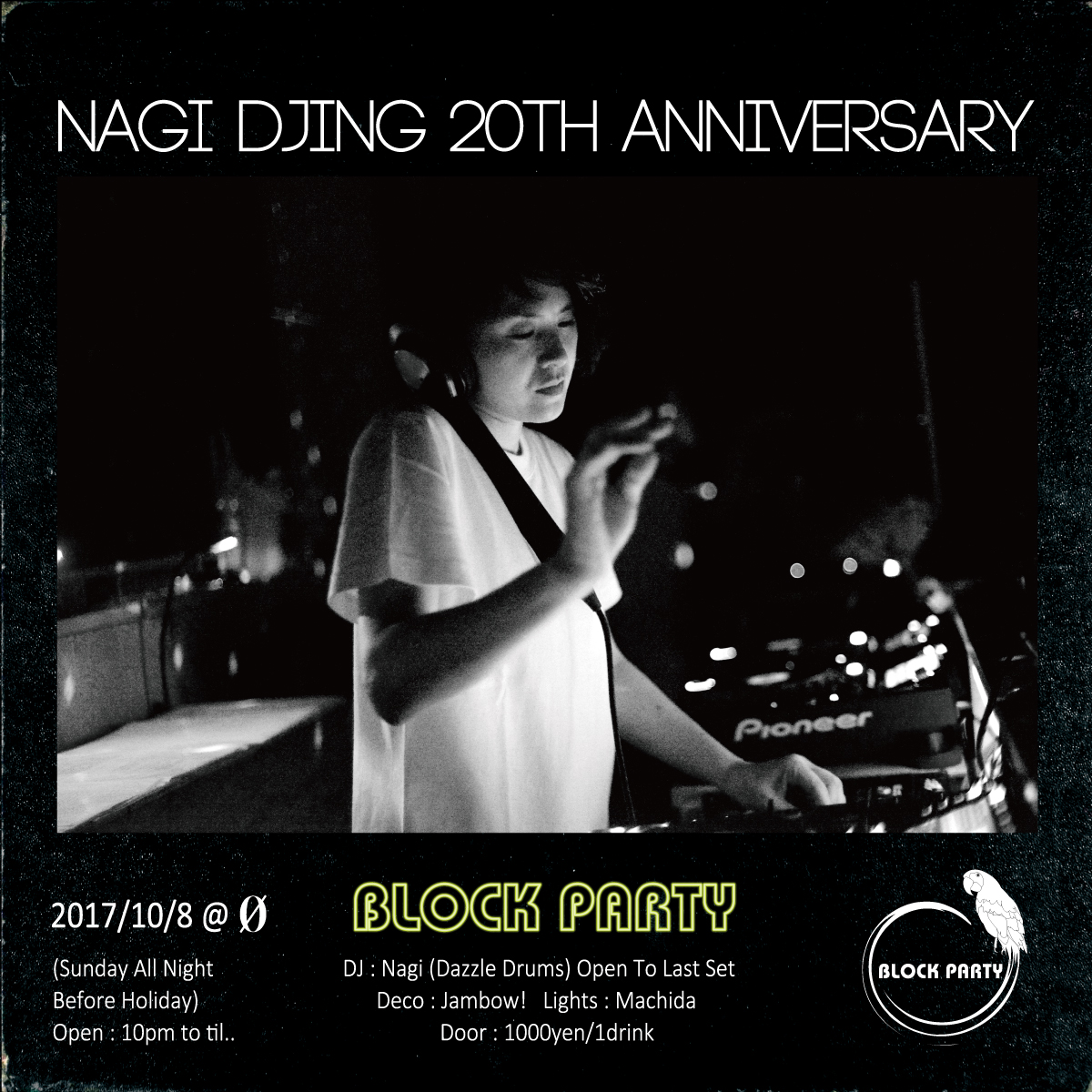 ■Block Party "Nagi (Dazzle Drums) DJing 20th Anniversary"
OPEN : 22:00 /DOOR : 1000円1drink
DJ:Nagi (Dazzle Drums) Open To Last Set

Deco : Jambow!

Lighting : Machida (LS Works)
我らがNagiがDJ20周年!この日のBlock Partyは祝日前なので夜開催、NagiがOpen To Lastでプレイします。
音楽やパーティに対して愛情深く、とても真っ直ぐなNagiが紡ぎ出す音は強く優しい。時にはソウルフルに、時にはパワフルに、時にはブースで飛び跳ね!フロアとの繋がりを大切にしてきた心のこもったプレイは心を揺さぶる。そんなNagiのDJが大好きです。20周年おめでとう!
NagiのDJライフを詰め込んだ、渾身のOpen To Last。デコレーションとライティングもスペシャルで。みなさんぜひ踊りに来てください。みんなでお祝いしましょう!
The next Block Party @ 0 Zero is a celebration of Nagi's (Dazzle Drums) DJing 20th Anniversary! This Sunday night is in front of the holiday which is Nagi's open to last set all night long.
Let's celebrate Nagi's DJing 20th Anniversary!
By Block Party Team
未成年の方もご入場頂けます。
当日のアルコール販売は20歳以上の方のみとなります。
(入口にてIDのご確認をいたします。)
Even if you're under 20 years, please come & join our party.
Of course, over 20 years too:)
ID is required to buy an alcoholic beverage(you must be 20 and over).