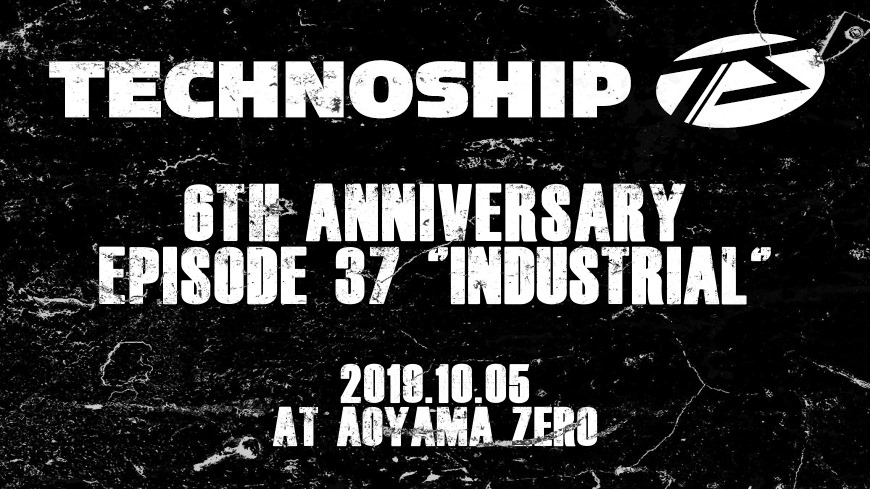 ■Technoship 6th Anniversary episode37 -Industrial-
Open : 22:00 Fee : 2000yen with 1 drink ticket. With Flyer : 1500yen with 1 drink ticket. ※画像提示でもOK
▼Featuring DJ
・ReNa ChINo (ReZo)
・ayaka

▼Technoship DJ
・yohei HIBIKI (captain)
・TAKASON (conbatant)
・Sayu (drug master)
・Tomotada Akai (doctor)

▼Technoship STAFF
・nob's clockwork (VJ/light keeper)
・TOSHIMURIN (carpenter)
・BEN (monster)

TECHNOSHIP6周年航海。
華を添える2名のFeaturing DJと、TECHNOの源流を目指し、インダストリアルな世界を旅します。
"BACK TO THE FRONTIER"
テクノが未開拓地を目指して突き進む宇宙船だった頃。
そこには僕らの想像を超えた風景が広がり、まだ見ぬ新しい世界への希望と高揚感があった。
人も時代も嵐のように移りゆく中で、クラブの形は変わり様々な進化と退化を経て、
今もなお新しいスタイルの発信基地となり続けている。
TECHNOSHIPは、発信基地ZEROより、新しいフロンティアを探す旅へと出発する。
懐古主義でもアンチテーゼでもない。未来へ向けてフロンティアを目指す
テクノという旅そのものを楽しめるパーティーになれば良いと思っている。
WELCOME TO SOUND JOURNEY BY TECHNOSHIP.
"BACK TO THE FRONTIER"
When a TECHNO spaceship plowed through the frontier,
we escaped to a place beyond imagination, full of hope and elation headed toward a new world that we've never seen.
While time and people are ever changing like a storm, the club scene has been evolving and retrogressing.
At this time it's still creating a foundation of new styles.
TECHNOSHIP departs from base ZERO on a journey searching for a new frontier.
It's neither nostalgia nor it's antithesis.
It's about the future.
We hope it will be a party that takes you on the journey of TECHNO.
WELCOME TO SOUND JOURNEY BY TECHNOSHIP.