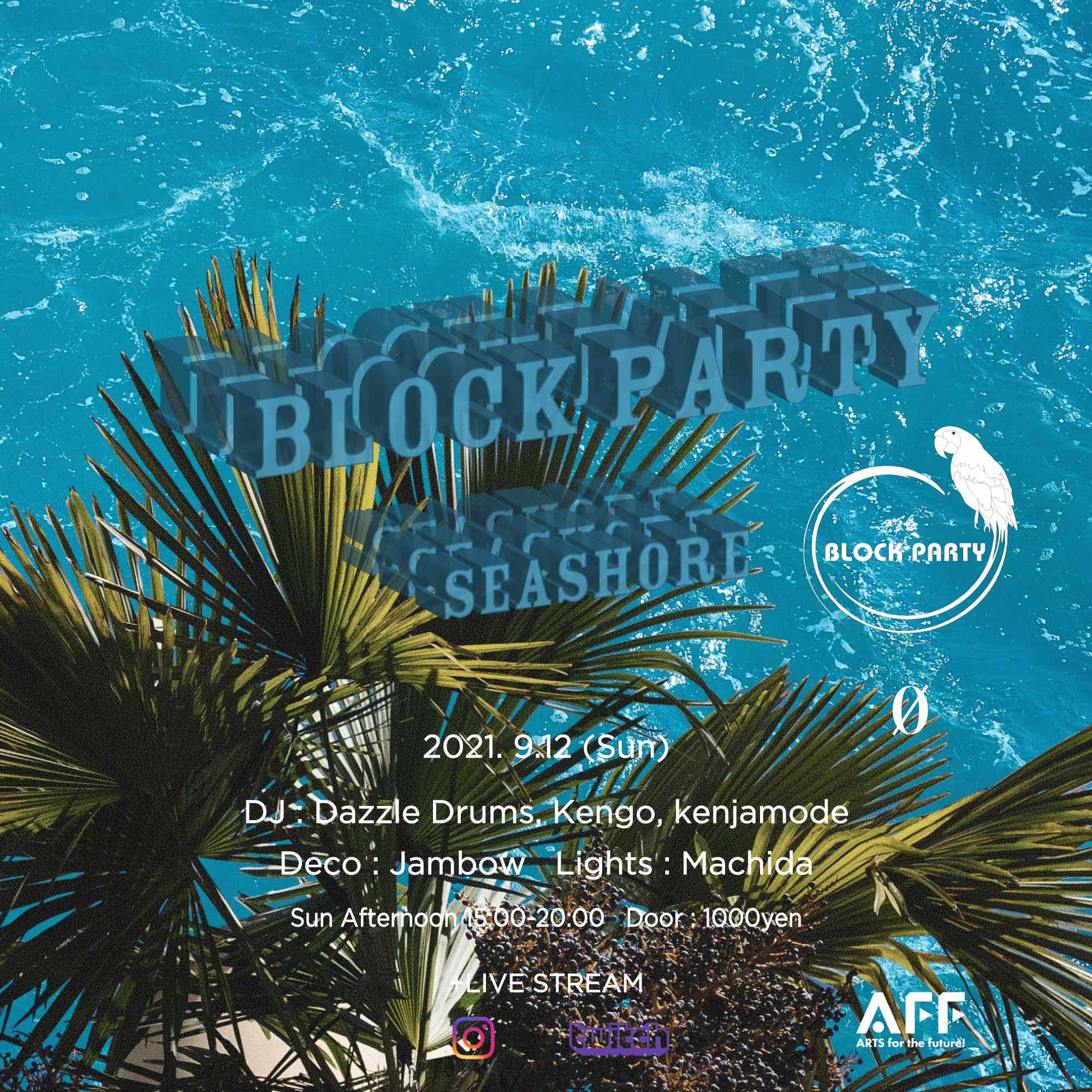 ■9.12.21 (Sun 15:00-20:00) Block Party "Seashore" + Live Stream @ 0 Zero
15:00-20:00 /DOOR:1000yen
DJ:Dazzle Drums, Kengo, kenjamode
Deco : Jambow!
Lighting : Machida (LS Works)
海沿いに映える音楽。ダウンテンポからダンスクラシック、そして新しいグルーヴをいつものメンバーとkenjamodeさんと一緒にBlock Party!沈みゆく太陽、去りゆく夏に。

Music along the Seashore. From downtempo to dance classics and new grooves, join the kenjamode and party members for a Block Party! In the setting sun, in the passing summer.

文化庁「ARTS for the future!」補助対象事業

主催 : Block Party

kenjamode (Mo'House)

地元金沢で音楽チームMo'Houseを組織。音楽性での隔たりが少ない柔軟な地元の風土の影響でハウスを軸にした便利屋へと到達。

Kengo 15:00-16:15

kenjamode 16:15-17:30

Dazzle Drums 17:30-19:30

TOKYO 15:00-19:00 JST

EUROPE 07:00-11:00 BST

NYC 02:00-06:00 EST

感染拡大防止に伴いお客様への入場時のお願い

Request to Customers to Prevent the Spread of Coronavirus.

コロナ禍ですべての人々の生活が大変な状況の中で、これまでBlock Partyに遊びに来てくださった皆様、そして寄付をしていただいた皆様に、心から感謝しております。

Block Partyですが、昨年の自粛要請期間と同様、0 Zeroから配信を行うことにいたしました。15時から19時まで、Block PartyのInstagram、0 ZeroのTwitchから配信いたします。

みなさまの無事と健康をお祈りしております。そして、皆さんと再び一緒に踊れる日を願っています。

In this situation at COVID-19, this time Block Party will be broadcasting from 0 Zero again on Sunday, September 12. The DJ Set will be live on 0 Zero Twitch and Block Party Instagram at 15:00-19:00 JST.

Please stay safe, and we hope can dance again with you.