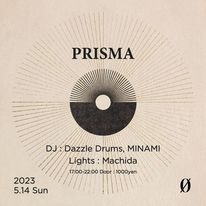 ■Prisma
Open : 17:00-22:00 / Door : 1000yen
DJ :
Dazzle Drums,
MINAMI

Lights : Machida
16年間毎月開催してきたBlock Partyのお休みから約半年、私達は新レギュラーパーティーPrismaをスタートします。
私達Dazzle DrumsとMINAMIさんとMachidaさんと一緒に、Block Partyと同じ時間の第二日曜夕方に0 Zeroにて。
小さな雨粒が虹を作るように、何でもない日常が色彩溢れる景色に変わる。そんなパーティを作れたらと願っています。ダンスフロアでお待ちしております。
About six months after a break of 16 years of monthly Block Party, we are starting a new regular party Prisma.
With us Dazzle Drums, MINAMI and Machida at 0 Zero on the second Sunday evening at the same time as the Block Party.
Like small raindrops making a rainbow, an ordinary day turns into a colourful landscape. We hope to create such a party.
We are looking forward to seeing you on the dance floor.